Willie Nelson & family end the year at ACL Live (pics)
Timothy S. Griffin
Willie Nelson @ The Moody Theater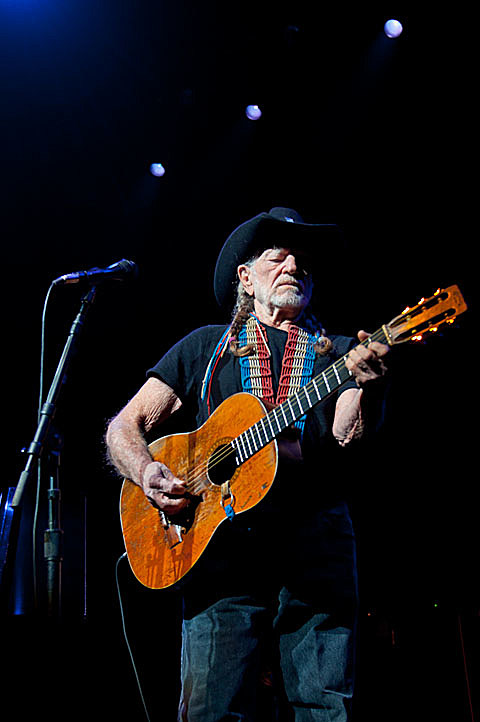 Willie Nelson spent then end of 2011 with his family at Austin's Moody Theater where, like he did when the new ACL Live venue opened earlier in the year, he played two shows - one on 12/30, and the other one night later on New Year's Eve...

"The full house stood for much of Nelson's set that included "Good Hearted Woman," "Mammas Don't Let Your Babies Grow Up to Be Cowboys" and "On the Road Again." The Willie Nelson Family Band included a few bonuses, with Lukas on electric guitar, Micah on snare drum and Amy on background vocals. The crowd at Moody Theater ate every bit of Nelson's set up, loudly singing along with his slew of hit songs.
As midnight approached, the crowd cheered when a few surprise guests showed up: Billy Gibbons of ZZ Top and Nashville's Jamey Johnson joined Nelson and family on stage and father time descended from the ceiling to the stage. Balloons dropped and the singing of "Auld Lang Syne" soon turned to "Happy Birthday to You" for Bobbie Nelson, whose birthday is January 1." [Culture Map]
The shows included an opening set by Willie's daughter Amy and Arlo Guthrie's daughter Cathy aka Folk Uke (if you say that quickly you may understand their intent). They ended their set with "Motherfucker Got Fucked Up", which helped cement their sense of humor in case you didn't get it from the name. "You guys can sing along with us if you want. If you don't want to say 'mother fucker' you can say 'mother forker' or 'mother folker' or 'cock sucker'."
We have pictures from the first night (12/30), and they continue below...

--