Stand & Deliver: Adam Ant was 'Wonderful' @ Emos East (pics, setlist, more dates)
Timothy S. Griffin
Adam Ant @ Emo's East - 9/19/2012

On Tuesday, which coincidentally was "Talk Like A Pirate Day", the love pirate himself Adam Ant played Emo's East with his band The Good, The Mad and The Lovely Posse. Some pictures from the show, and the full setlist, are in this post.
While it has been quite a few years since he'd toured though Austin, he made up for it with a whopping 28 song set, much to the great pleasure of old and new fans alike. Much singing and dancing, including quite a few swooning sounds from the ladies in the audience, was the order of the day. Post-show, there was an 80's themed afterparty upstairs at Beauty Ballroom next door.
Adam is now out with his posse continuing the tour and putting the final touches on his next studio album 'Adam Ant Is the Blueblack Hussar in Marrying the Gunner's Daughter', due in early 2013 (via Wikipedia):

Adam Ant started working on the album in late 2009, originally recording with writing partner Marco Pirroni. However they separated and scrapped all work around March 2010 coinciding with Ant's return to live performance. The majority of the double album was recorded with Boz Boorer on a laptop, additionally Chris McCormack co-wrote 6 of the album's tracks. Ant has explained that the idea behind the album's title is that the Blueblack Hussar is his classic Kings of the Wild Frontier-era persona, back from the dead, while the phrase 'marrying the gunner's daughter' (an old naval term for a form of corporal punishment in which sailors were tied to a ship's cannon and flogged) is intended by Ant to serve as a metaphor for how he believes artists are treated by the music industry.[8] The album first started to receive attention after NME confirmed Ant was back in the studio in March 2010. It was initially announced "Gun In My Pocket" would be the first single, backed with "Who's A Goofy Bunny" as the B-side, a tribute to the recently deceased Malcolm McLaren.[6][9][10]
Ant also worked with Beady Eye member Andy Bell on a track called "Cool Zombie" however Liam Gallagher attempted to block its inclusion on the album.[11]
He's also launching a similarly-named fashion label next year, Blueblack Hussar, which he was wearing for the performance.
More pictures, the setlist and his full list of 2012 tour dates, below...

--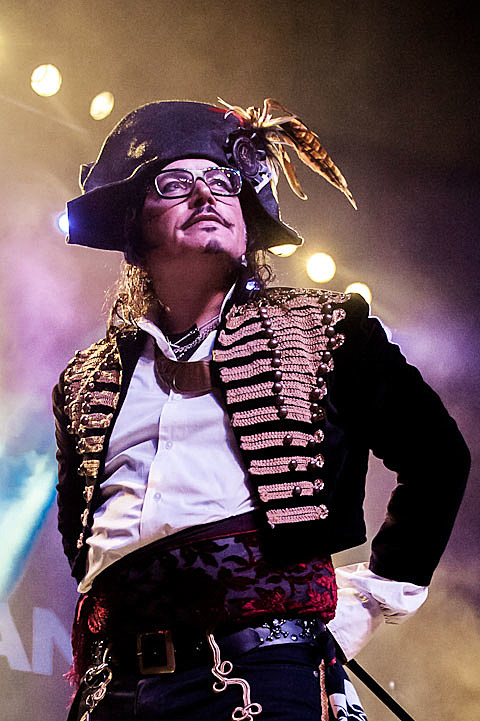 Adam Ant & The Good, The Mad and The Lovely Posse - Emo's East 9/19/2012 Setlist:
PLASTIC SURGERY
DOG EAT DOG
BEAT MY GUEST
KICK
CAR TROUBLE
ANTS INVASION
DEUTCHER GIRLS
STAND AND DELIVER
ROOM AT THE TOP
KINGS OF THE WILD FRONTIER
WONDERFUL
WHIP IN MY VALICE
VINCE TAYLOR
STRIP
DESPERATE BUT NOT SERIOUS
CLEOPATRA
NEVER TRUST A MAN
ZEROX
ANTMUSIC
GOODY TWO SHOES
VIVE LE ROCK
CHRISTIAN D'OR
LADY/FALL IN
FAT FUN
RED SCAB
PRINCE CHARMING
GET IT ON (T. REX) / 20TH CENTURY BOY
PHYSICAL
22nd - Atlanta, GA, Music Midtown
24th - Tallahassee, FL, The Moon
25th - Jacksonville Beach, FL, Freebird Live
27th - Tampa, FL, Hard Rock Cafe
28th - Coconut Creek, FL, Seminole Casino
29th - Orlando, FL, Hard Rock Live
2nd - Richmond, VA, The National
3rd - Norfolk, VA, NorVa
5th - Philadelphia, PA, Trocadero Theatre
6th - New York, NY, Best Buy Theatre
- Meet and Greet Available
8th - Boston, MA, Royale
11th - Pontiac, MI, The Crofoot Ballroom
13th - Chicago, IL, Cubby Bear
14th - Milwaukee, WI, Turner Hall Ballroom
18th - San Francisco, CA, The Regency Ballroom
- Meet and Greet Available
19th - Ventura, CA, Ventura Theater
20th - Anaheim, CA, The Grove of Anaheim
- Meet and Greet
1st - Glasgow, O2 ABC
2nd - Newcastle, O2 Academy
3rd - Leeds, O2 Academy
6th - Oxford, O2 Academy
8th - Cardiff, University
9th - Portsmouth, Pyramids
11th - Bournemouth, O2 Academy
13th - Stoke, Victoria Hall
15th - Liverpool, Philharmonic
16th - Bristol, O2 Academy
17th - Birmingham, Ballroom
19th - Bexhill, De La Warr
21st - Norwich, UEA
23rd - Nottingham, Rock City
24th - Sheffield, Plug
25th - Manchester, The Ritz
27th - St Albans, Arena
28th - Cambridge, Corn Exchange
30th - London, O2 Shepherds Bush Empire
- Meet and Greet Available
8th - Roermond, ECI Cultuurfabriek
9th - Haarlem, Patronaat