Ringo Deathstarr heading out on tour, played Frontier Bar w/ Spiritual Wives (including Jason Reece) — pics & dates
TSG@GRIFFINSHOT.COM
Ringo Deathstarr (joined by Jason Reece) @ Frontier Bar - 8/18/2012

Ringo Deathstarr, who recently released a new song, are about to head overseas for a tour, but on Saturday, 8/18, they played a hometown Austin show at Frontier Bar with Spiritual Wives, Residual Kid, The Boxing Lesson, and The Well. Pictures of the first two are in this post (more pics from the show HERE).
Spiritual Wives features members of Tia Carrera (Erik Conn), Pack of Wolves (Trey Ramirez), Curse the Heavens (Alec Padron), and ...And You Will Know Us By The Trail of Dead (Jason Reece). (Speaking of ...Trail of Dead, they're going on tour too.)
Ringo Deathstarr's Elliott Frazier, Daniel Coborn, and Galexy Gehring put on a great show (Jason Reece joined for a song, too), and now head down to Brazil for the first leg of their international tour - then Japan. They'll be back in the states in September for more touring, but this was likely the last Austin performance until December 2012. All dates, and more pictures, below...

--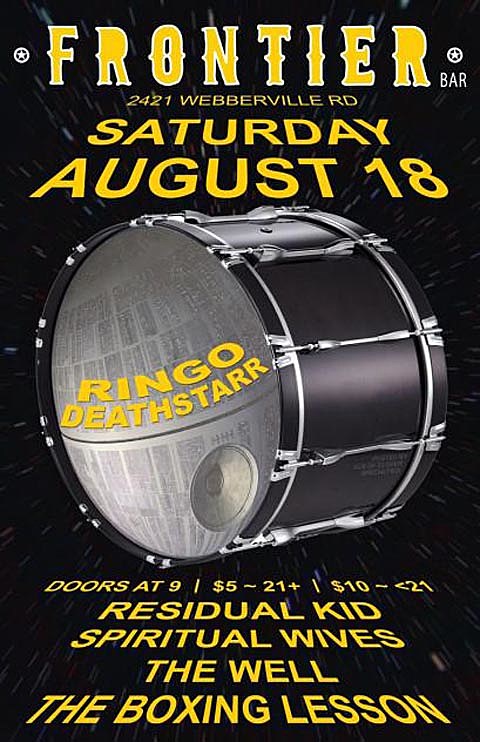 Spiritual Wives
Ringo Deathstarr
More pictures from the show HERE.
RINGO DEATHSTARR - 2012 TOUR DATES
2012-08-26 Sao Paulo, Brazil
2012-08-28 Curitiba, Brazil
2012-08-30 Rio De Janiero, Brazil
2012-09-01 Sao Paulo, Brazil
2012-09-08 Tokyo, Japan
2012-09-09 Osaka, Japan
2012-09-10 Nagoya, Japan
2012-09-14 El paso, TX TBC
2012-09-15 Tempe, AZ - Club Red
2012-09-16 San Diego, CA - Soda Bar
2012-09-16 Los Angeles, CA - Echo
2012-09-18 Long Beach, CA - Que Sera
2012-09-19 San Francisco, CA - Milk Bar
2012-09-23 Seattle, WA - Comet Club
2012-09-26 Salt Lake City, UT - Bar Deluxe
2012-09-27 Denver, CO - Lions Lair
2012-09-29 Lawrence, KS - The Jackpot
2012-09-30 Fayetteville, AR - Lightbulb Club
2012-10-01 Norman, OK - Oklahoma University
2012-10-04 St. Paul, MN - The Turf Club
2012-10-05 Milwaukee, WI - Riverwest Public House
2012-10-06 Chicago, IL - Beat Kitchen
2012-10-07 St Louis, MO - Plush
2012-10-09 Bloomington, IN - The Bishop Bar
2012-10-10 Dayton, OH - South Park Tavern
2012-10-11 Grandville, MI - Corner Records
2012-10-12 Windsor, ON - Phog Lounge
2012-10-13 Toronto , ON - The Garrison
2012-10-14 Hamilton, ON - This Ain't Hollywood
2012-10-17 Rochester, NY - The Bug Jar
2012-10-18 Northampton, MA - The Flywheel
2012-10-21 Brooklyn , NY - Shea Stadium
2012-10-22 New York, NY - The Cakeshop
2012-10-23 College Park, MD - WMUC
2012-10-24 Philadelphia, PA - Pi Lam
2012-11-07 London, UK Dingwalls