Nick Cave & The Bad Seeds played ACL Live w/ Nicole Atkins (pics & setlist)
Sarah Frankie Linder
Nick Cave @ The bad Seeds @ ACL Live - 7/19/2014

Dressed in black, tan chest glistening under gold chains, Cave delivered a performance without reservations Sunday evening. He jumped, thrusted, swayed, cursed, blasphemed, and crooned the packed Moody Theater for an hour's worth of crushingly loud deliverances and sexualized come-ons.
Platform extensions on both sides of the stage allowed Cave to extend himself to the audience where throngs of writhing hands lifted upwards for a quick grasp of his robes. He gave much more than that. Hands supported his slender figure as he leaned into his lustful disciples. "I saw you last night," Cave said to a blond in the front row, referring to his Saturday night performance. "At the show, of course," he clarified with a smirk. [Pop Press International]
Nick Cave and the Bad Seeds are continuing to support last year's Push the Sky Away on an ongoing tour with Nicole Atkins which hit Austin for an ACL Live show at Moody Theater earlier this month (7/19). Pictures from that show are in this post. They continue, with the setlist, below...

Nick Cave & The Bad Seeds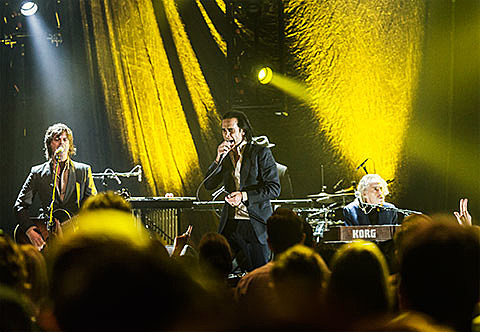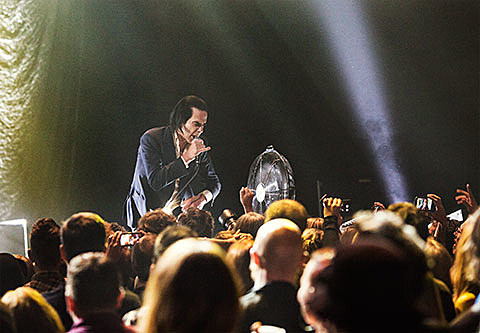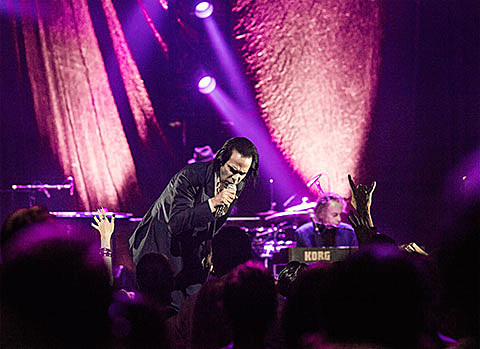 SETLIST: (via)
We Real Cool
Jubilee Street
Tupelo
Red Right Hand
Mermaids
From Her to Eternity
West Country Girl
Into My Arms
The Ship Song
God Is in the House
The Weeping Song
Higgs Boson Blues
The Mercy Seat
Stagger Lee
Push the Sky Away
Encore:
Deanna
Do You Love Me?
Papa Won't Leave You, Henry
The Lyre of Orpheus