Lovejoys closing on August 5th
Pallbearer at Lovejoys (more by BBG)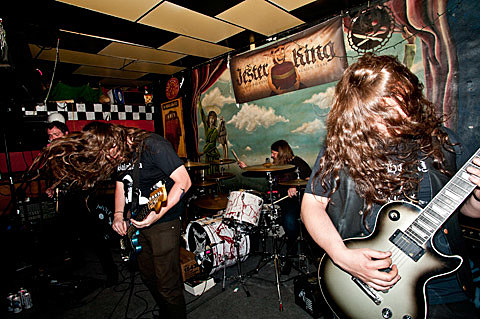 Dear Lovejoys Friends and Family,
It is with great sadness and regret that I bring you the news that Lovejoys will be forced to close next month. After struggling for the last few years with rising costs and decreasing revenues, we can no longer afford to keep the doors open at 604 Neches.
It is not currently clear what our next move will be. Perhaps a neighborhood location with more parking and outdoor space or in the immortal words of founder Chip Tait upon his potential closure years ago, "Maybe I'll open a Wal-Mart. Those guys make money." As painful as it is, I look forward to taking a step back to breathe and to plot my next move. The soul of Lovejoys is bigger than just a building and I am confident that we will resurface in some fashion at some point.
As it stands, our final night will be Sunday, August 5th. I cannot begin to express the amount of gratitude owed to all of the incredible people who have called Lovejoys home over the last 18 years. The list is volumes long. Hopefully I will see you all at the pub during the next few weeks to personally thank you over a pint or two.
Cheers and Long Live The Order Of The Fez!
This is really sad news, and sucks for me personally too. Lovejoys has hosted some really incredible BrooklynVegan SXSW parties for us, with names like Ringworm, Nachtmystium, Pallbearer, Tombs, Dark Castle, Deafheaven, Alcest, Speedwolf, and so many other greats. It's really sad to know that the space will no longer be a part of the Lovejoys family, but onward and upward... we look forward to the future for Lovejoys.