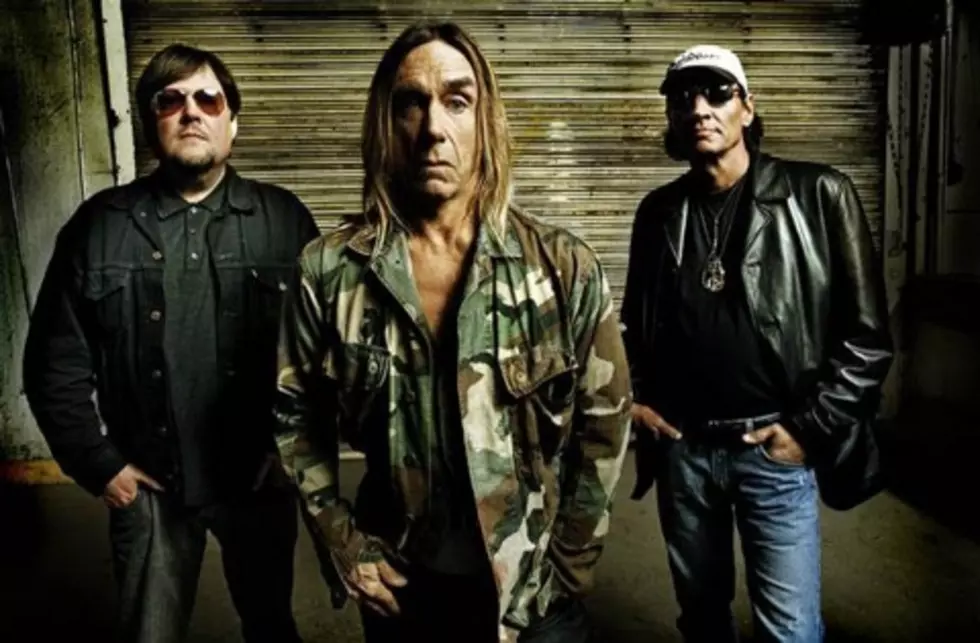 Iggy and the Stooges, Ghostface Killah, Specials, Japandroids & more playing Fat Possum/House of Vans SXSW show
Fat Possum Records is teaming up with House of Vans for an official SXSW showcase which will go down at The Mohawk on March 13 (6:30 doors) with hip hop legend Ghostface Killah, ska legends The Specials, punk legends Iggy and the Stooges (who are releasing an album on Fat Possum this year), the less legendary but equally awesome Japandroids, alt-rock band Middle Class Rut, and pop singer Sky Ferreira. If you can't make it to the showcase but still want to watch it, you can stream it live on Seagate and Vans.com/SXSW.
House of Vans is taking over the Mohawk for other showcases and day parties throughout the week of SXSW (including Pitchfork's Show No Mercy party), and the full House of Vans SXSW schedule is below...
House of Vans at the Mohawk (all day parties are FREE)
Wednesday, March 13
Pitchfork presents Show No Mercy - doors open at noon
Outdoor Stage: Skeletonwitch, Trash Talk, Pallbearer, Royal Thunder, Mutilation Rites, Encrust
Indoor Stage: Power Trip, Wet Lungs, Pinkish Black, Vattnet Viskar, Inter Arma, Batillus
Official Vans SXSW Showcase presented by Fat Possum Records - doors open at 6:30 pm
Outdoor Stage: Ghostface Killah, The Specials, Iggy and the Stooges, Japandroids, Middle Class Rut,
Sky Ferreira
Anticon SXSW 2013 Showcase - doors open at 6:30 pm
Indoor Stage: Baths, WHY?, Young Fathers, Daedelus, Kenny Dennis, D33J, Anticon DJs
Thursday, March 14
IAMSOUND / MFG 2013 SXSW PARTY - doors open at noon
Outdoor Stage: Disclosure, Charli XCX, Lord Huron, DIIV, IO ECHO, RATKING
Indoor Stage: Palma Violets, PAPA, Peace, Hands, HUNTERS, Oddience
Paradigm SXSW Showcase - doors open at 7 pm
Outdoor Stage: Wake Owl, Pacific Air, Solid Gold, SKATERS, Cold War Kids, Local Natives
Indoor Stage: Naia Kete, RDGLDGRN, Cheetahs, The Drum, Supreme Cuts, Marjiuana Deathsquads
Friday, March 15
The Windish Agency Mohawk Day Party - doors open at noon
Outdoor Stage: Jerome LOL, MØ, Jetta, Doldrums, Austra, Toro Y Moi, Alt-J
Indoor Stage: Sóley, Empress Of, K.I.D.S., SOHN, Guards, Sir Sly
Ground Control Touring SXSW Showcase - doors open at 7 pm
Outdoor Stage: Trash Talk, Chelsea Light Moving, Merchandise, Dawes,
Cory Chisel & The Wandering Sons, Jonny Fritz
Indoor Stage: DIIV, Parquet Courts, Ducktails, Widowspeak, Spider Bags, Lemuria
Saturday, March 16
The A.V. Club & Flowerbooking present March into Softness - doors open at noon
Outdoor Stage: Frightened Rabbit, Baths, The Thermals, METZ, Paws, Balmorhea
Indoor Stage: Telekinesis, The Coup, Fear of Men, Houses, Wild Belle, Valleys
True Panther Sounds x Terrible Records SXSW Showcase - doors open at 7 pm
Indoor: Supreme Cuts, Kelela, Petit Noir, Majical Cloudz, diamond terrifier
Outdoor: Delorean, XXYYXX, Le1f, Cashmere Cat, Empress of, Silent Diane