Housecore Horror Fest days 3 & 4 pics & video (Melvins, Eyehategod, GWAR, Goatwhore, Phil Anselmo & more)
Melvins / GWAR / Eyehategod

Housecore Horror Film Fest went down in Austin last weekend (10/24-27). We already posted pictures from Friday (10/25), and now we've got pictures and video of the remaining two days, which featured Hate Eternal, Iron Reagan, Goatwhore, Whitechapel, The Melvins, GWAR, Honky, Skrew, Eyehategod (with Dale Crover of the Melvins on drums), Phil Anselmo & The Illegals, and more.
Things started to get a lot weirder for David over the weekend, including a borderline panic attack over the prospect of touching King Buzzo's guitar:

"I was idly chatting with Billy as Buzz Osborne nonchalantly strolled by and handed Billy his guitar so he could attend to something else. Billy strummed out a few chords and noodled around on the custom burnt/orange "King Buzzo Special," made by the Electric Guitar Company. That really blew me away. That's like Thor just handing you his fucking hammer while he goes to take a leak -- I reached out with one, trembling, fanboy finger and thought about just sort of touching the body of the guitar but chickened out at the last minute. What's that line about stabbing the devil in the back from Usual Suspects - what if you miss? Well, what if I somehow fucked up the guitar? No way I'd take that chance. But it was cool to see the trust and camaraderie between Billy and Buzz. I've seen the Melvins five or six times in various incarnations -- Fantomas/Melvins Big Band, and as the four piece with Big Business a few times, but this was going to be my first experience seeing the band as a trio. Jeff Pinkus was on bass, and I overheard Buzz tell someone they were doing Butthole's "Graveyard" during the set. I was in heaven."
Good thing David had plenty of Ativan to calm him down. Read the whole thing over at IO for more backstage banter and "hot sauce that would melt your nuts off."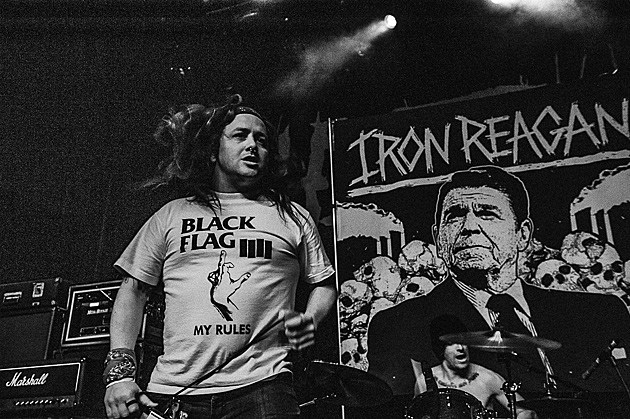 Phil Anselmo & The Illegals