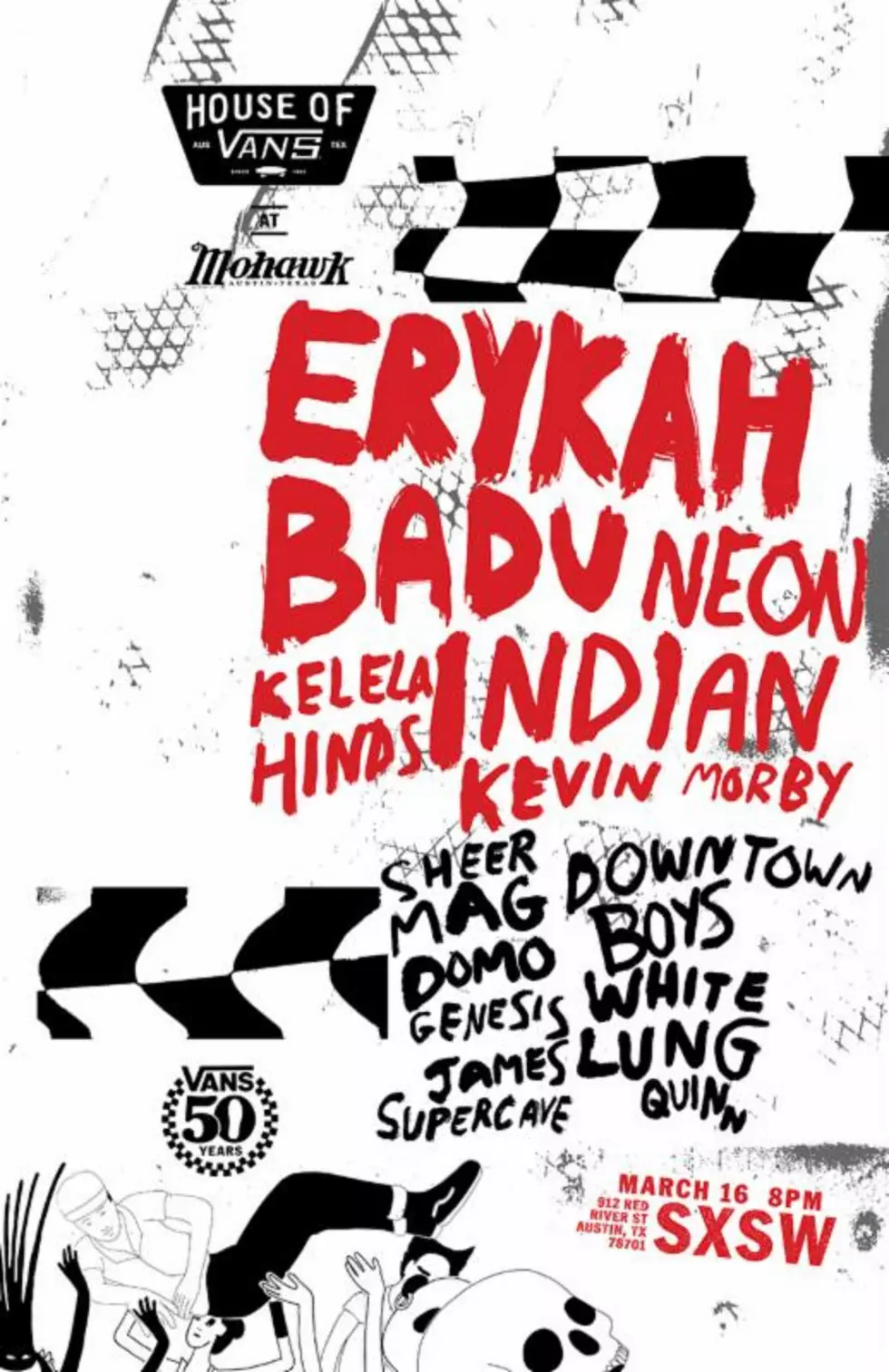 House of Vans @ The Mohawk, 2016 SXSW lineup
The press release reads:

Cypress, CALIF. (March 7, 2016) - Kicking off March 16, Vans returns to the SXSW Music Festival for a week-long pop up edition of its cultural hub, House of Vans, at Austin's historical live music venue, the Mohawk. The House of Vans returns for the fourth year and honors Vans' 50-year legacy of creative expression across action sports, art, music and street culture. To ring in the celebration, House Vans at the Mohawk calls upon Texas local and genre defying icon, Erykah Badu, for a special live performance exclusive to House of Vans. A wide array of musical genius including Neon Indian, Kelela, White Lung, Quinn, Kevin Morby, James Supercave, Hinds, Domo Genesis, Downtown Boys and Sheer Mag are set to take the stage for a celebration of a lifetime. House of Vans at the Mohawk parties will feature an eclectic lineup of "Off The Wall" talent. Programming partners include Cliché, Hypetrak, The Windish Agency, Middle West Management, Fun Fun Fun Fest and Cinematic Music Group.
For the first time, Vans curates a discussion panel with SXSW on March 17 at 3:30pm UTC at the Austin Convention Center. Over the last 50 years, Vans has managed to remain relevant thanks to its authenticity; never straying from its "Off The Wall" motto. With authenticity being an omnipresent topic across the evolution of all things artistic, Vans VP and General Manager of North America, Doug Palladini, will moderate a discussion on authenticity and growth with seasoned industry veterans to celebrate Vans' heritage. Vans is excited to welcome guest panelists Walter Schreifels of Gorilla Biscuits and Youth of Today, Nate Mendel of the Foo Fighters and Sunny Day Real Estate, and Mish Way of White Lung.
On March 16,Vans' legacy will be brought to life in 10 cities across the globe to honor 50 years of "Off The Wall" heritage alongside the extended Vans family that have made the brand what it is today. From New York to London to Hong Kong, the worldwide celebration of creative expression will welcome a mix of eclectic performers including Nas, Dinosaur Jr., Wu-Tang Clan, The Kills, Jamie xx, Dizzee Rascal, Yeasayer, Shlohmo in addition the Vans SXSW Music Showcase.
The kick off anniversary events are the beginning of the global expansion of House of Vans, which further cements Vans' dedication to fostering creative expression. Throughout 2016, Vans will host a variety of activations including skateboarding demos, music events, interactive design workshops and art installations, all to continue to encourage the creative communities that have supported Vans for the past 50 years. As the cultural hub for Vans, House of Vans seeks to inspire and connect with everyone who enters the space. With two permanent locations, one in New York and the second in London, Vans will introduce pop up House of Vans experiences to more locations around the globe creating spaces where Vans enthusiasts around the world can interact with the brand one-on-one.