#HotelVegan Day 4 pics (Okkervil River, Lucero, Diamond Rugs, MF'n eXquire, SpaceGhostPurrp, Pond, Guards & more)
Timothy S. Griffin
photos by Amanda Hatfield & Tim Griffin
Okkervil River / Diamond Rugs

BrooklynVegan's Hotel Vegan, located at Austin venues Hotel Vegas & Volstead Lounge, ended on Saturday, 3/17/2012, on three stages in partnership with Partisan Records and KF Records, and the new Young One Records who helped us put together the hip hop stage which stage headliner Action Bronson cancelled from last minute from (for medical reasons).
The day, and all four days, ended with special last minute addition Okkervil River who played after Deer Tick/Black Lips/Dead Confederate/Los Lobos super group Diamond Rugs who played after Heartless Bastards (who we already posted one set of pictures of). Other previously posted photo sets from this day include Father John Misty, Field Report, Pond and Emily Wells. Here are the rest of the pics.
Like Wednesday, Thursday, and Friday, we served complimentary HobNob Wines, and on Friday and Saturday we partied with The Original Moonshine, our official spirit partner.
Special thanks to our official backline providers Vox, Blackstar and Korg, and thank you to ASCAP, and to NadaMoo for supplying free vegan treats, and to Honest Tea for the tea.
More, slightly belated, pictures from all of Saturday, below...

--

Field Report (by Amanda)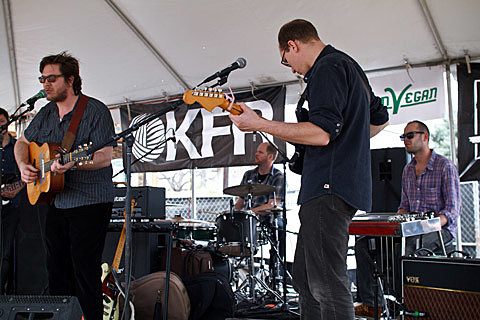 Patrolled By Radar (by Tim)
Patrolled by Radar (by Amanda)
Lushlife (by Tim)
Lushlife (by Amanda)
Lushlife (by Nevona)
Ivan & Alyosha (by Tim)
Ivan & Alyosha (by Amanda)
Emily Wells (by Tim)
Main Attrakionz (by Tim)
Main Attrakionz (by Amanda)
Father John Misty (by Tim)
Cadence Weapon (by Tim)
Cadence Weapon (by Amanda)
Phantom Family Halo (by Tim)
Phantom Family Halo (by Amanda)
J. Roddy Walston & The Business (by Tim)
J. Roddy Walston and the Business (by Amanda)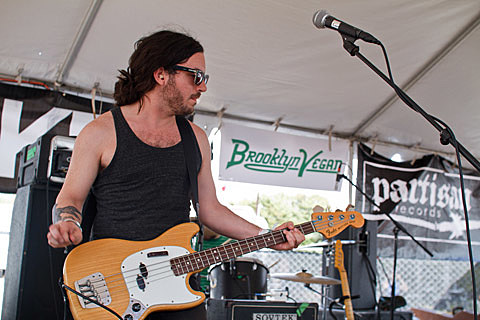 Speakerfoxxx (Rittz's DJ) (by Tim)
Speakerfoxxx (Rittz's DJ) (by Amanda)
Rittz (by Nevona)
Lumerians (by Tim)
Lumerians (by Amanda)
Lucero (by Tim)
Lucero (by Amanda)
Hundred Visions (by Tim)
Hundred Visions (by Amanda)
Fat Tony & friends (including Tom Cruz) (by Amanda)
Fat Tony & 10ILLE TENNILLE (by Nevona)
Heartless Bastards (by Amanda)
Pond (members of Tame Impala) (by Tim)
Pond (by Amanda)
SpaceGhostPurrp (by Amanda)
Spaceghostpurrp and Fat Tony (by nevona)
Diamond Rugs (by Tim)
Diamond Rugs (by Amanda)
GUARDS (by Tim)
Guards (by Amanda)
Mr. Muthafuckin' eXquire (by Amanda)
"Action Broson" (Bronson)
Okkervil River (by Tim)
Okkervil River (by Amanda)