Garbage trashed a sold-out La Zona Rosa w/ Screaming Females (pics, setlist, video)
Timothy S. Griffin
Shirley Manson of Garbage @ La Zona Rosa - 10/10/2012

Way back in April Garbage was forced to postpone their Houston and Austin shows. They did get to Waterloo Records for a Record Store Day in-store visit, but there was no music performance to be had in April.
It took almost six months, but they finally made it back to play a sold-out La Zona Rosa w/ tour mates Screaming Females. It was a great show, but not without a little bittersweet thrown in. As we reported earlier, the screamingest female herself, Marissa Paternoster, has been fighting mono for quite a while. It has taken its toll, and the show last night at LZR will be the last one for Screaming Females this year as all other 2012 dates have been cancelled.
During SF's set, Garbage came out on stage to hug and thank them for a great tour and speak their praises. Shirley is a very big fan of Marissa's, and made that clear throughout the night - including having Marissa come out for a duet on the first song of Garbage's encore, the Smith/Springsteen classic "Because the Night" (video below).
Check out more pictures from the show, Garbage's setlist, and a video from the encore below...

--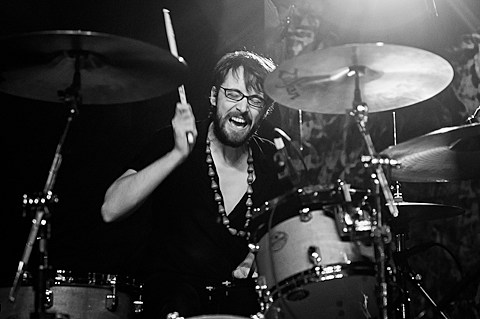 Shirley Manson & Marissa Paternoster cover "Because the Night" at LZR - 10/10/12

Garbage setlist @ LaZonaRosa on 10/10/2012:
Automatic Systematic Habit
Paranoid
Shut Your Mouth
Why Do You Love Me
Queer
Stupid Girl
Hammering
ControlThe One
#1 Crush
Cherry Lips
Blood For Poppies
Special
Cup Of Coffee
Man On A Wire
Push It
Only Happy When It Rains
Encore:
Because The Night
i Hate Love
VOW