Dead Can Dance played The Moody Theater as part of their long-awaited world tour (pics, dates)
TIMOTHY S. GRIFFIN
Dead Can Dance @ The Moody Theater - 9/7/2012

Austin Chronicle: Has Dead Can Dance ever played in Austin?
Lisa Gerrard: I don't think we have. To be honest, I can't remember. We've done so many thousands of concerts in America. I don't think it was exactly Austin, but I do believe we played not too far from there. It all becomes such a blur, especially back in the early days when you're sleeping on a bus and you just turn up in a place and do five shows in a row. It's insane. Just a blur. Actually, it's really unrealistic and really silly to do it like that, but you have to, because you just don't have the budget to do it differently.
AC: LL Cool J famously said, "Don't call it a comeback." Is Anastasis a comeback for Dead Can Dance?
LG: "Don't call it a comeback," how funny. I don't think Brendan and I really knew whether we'd ever work together again. It was one of those things where our lives moved into a completely different area. We drifted apart because I was living in Australia and Brendan was living in Ireland, where previous to that we'd always lived in very close proximity to each other, whether in the same house or very near to each other.
So our communication and our interests in philosophy and history and painting and walks and movies [fell away]. It was very much an integral part of our communication and the things that were influencing the way we wrote music. We, of course, have explored a lot of various Mediterranean traditional pieces. We were both heavily influenced by that as children because we grew up in immigrant areas. Well, I did especially.
Then Brendan and I developed a real love for Arabesque music, which found its way into our music from the point of view of exploring the very different rhythms, because we really wanted to break out of the box of just staying with a four-four [beat] and explore what it was that made that piece of music uniquely different from Western music.
That became something that caught our attention and we explored. Because you have to understand that when you do this work it's like an apprenticeship. You have a love for the work of music as something that drives you, but then there's no one to teach you how to find your own unique potential. So usually you're driven by things that inspire you as a tutorial if you like. - [Austin Chronicle]
Dead Can Dance are currently on tour and came to ACL Live at The Moody Theater. More pictures from the show and a list of all remaining tour dates, below...

--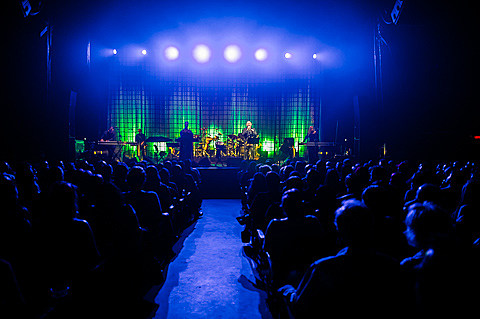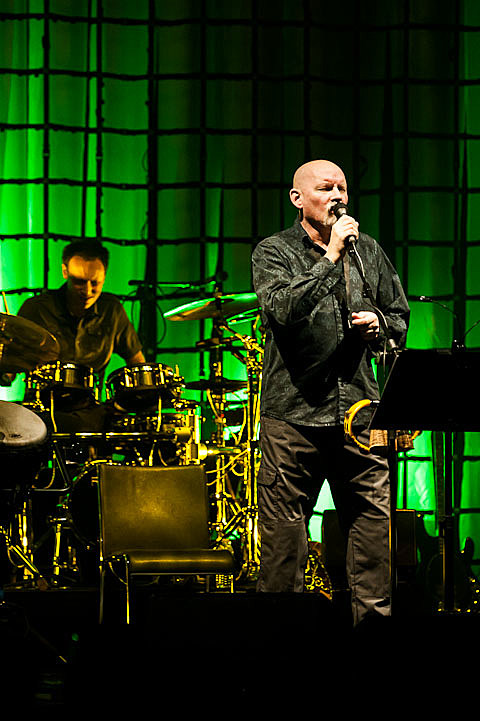 Dead Can Dance World Tour 2012 / 2013
09/16/12 BEIRUT ZOUK AMPHITHEATRE LEBANON
09/19/12 ISTANBUL HCTAT TURKEY
09/21/12 THESSALONIKI EARTH THEATRE GREECE
09/23/12 ATHENS LYCABETUS THEATRE GREECE
09/25/12 UTRECHT MCV NETHERLANDS
09/27/12 PARIS GRAND REX FRANCE
09/29/12 BRUSSELS CIRQUE ROYAL BELGIUM
10/01/12 FRANKFURT ALTE OPER GERMANY
10/03/12 BERLIN TEMPODROM GERMANY
10/05/12 HAMBURG CCH GERMANY
10/07/12 MUNICH PHILHARMONIE GERMANY
10/08/12 COLOGNE PHILHARMONIE GERMANY
10/10/12 PRAGUE KCP CZECH REPUBLIC
10/12/12 ST. PETERSBURG ICE PALACE RUSSIAN FEDERATION
10/13/12 MOSCOW CROCUS CITY HALL RUSSIAN FEDERATION
10/15/12 WARSAW SALA KONGRESOWA POLAND
10/17/12 BUDAPEST PAPP LASZLO ARENA HUNGARY
10/19/12 MILAN TEATRO DEGLI ARCIMBOLDI ITALY
10/20/12 GENEVA BATIMENT DES FORCES MOTRICES SWITZERLAND
10/22/12 BARCELONA AUDITORI SPAIN
10/24/12 PORTO CASA DA MUSICA PORTUGAL
10/26/12 LONDON ROYAL ALBERT HALL UNITED KINGDOM
10/28/12 DUBLIN GRAND CANAL THEATRE IRELAND
11/27/12 MONTERREY BANAMEX THEATER MEXICO
11/29/12 MEXICO CITY NATIONAL AUDITORIUM MEXICO
11/30/12 GUADALAJARA TEATRO DIANA MEXICO
12/04/12 SANTIAGO ESPACIO RIESCO CHILE
02/03/13 SYDNEY SYDNEY OPERA HOUSE AUSTRALIA
02/04/13 SYDNEY SYDNEY OPERA HOUSE AUSTRALIA