BrooklynVegan Saturday party photos : Hundred Waters, Bob Nanna, Hold Steady, Pains, Protomartyr, Ex Hex, Quilt & more)
photos by Amanda Hatfield
Hold Steady / Pains / Ex Hex / Quilt -- 3/15/2014

Inside Red 7, the fresh-faced singer/guitarist Kip Berman of The Pains of Being Pure at Heart stealthily opened the sextet's set, playing a song alone on stage that could have been mistaken for part of the band's sound check in its tentative minimalism before the other five members took their places. Once assembled, they wasted no time in summoning a huge wall of sparkly pop-rock noise by melding shimmery keyboard work, subtly reverberating vocal effects, and liberal use of the whammy bar. The band occasionally slowed down to a more understated, post-punk tempo reminiscent of the Smiths, yet for the most part, on new single "Simple and Sure" as well as "Young Adult Friction," they produced a sugar rush of noise with just enough rock bite to keep things from feeling saccharine. [SLANT]
A full review and set of pictures from our Saturday 2014 SXSW Day party at Red 7 are at BrooklynVegan. A second set of pictures from the day continues below....

---
Palehound
Saintseneca
Tweens
More Tweens pics HERE.
--
Fat White Family
more Fat White Family pics by Amanda HERE
Potty Mouth
Quilt
Ex Hex
More Ex Hex pics by Amanda HERE, and a couple by Tim Griffin here:
Connan Mockasin
Hundred Waters
Speedy Ortiz
Bob Nanna of Braid
Protomartyr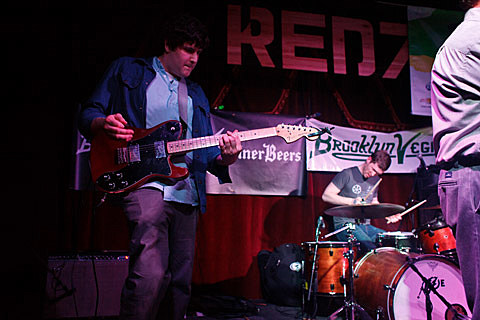 The Hold Steady
More Hold Steady pics by Amanda HERE, and here are three by Tim Griffin:
The Pains of Being Pure at Heart
Shiner beer was on special and we gave away free Jameson. Veri organic soda was free, plentiful and was there to help you rehydrate. We let in 20 people each day who were taking advantage of Esurance's SXSW-wide #EsuranceAccess program.
Maybe you won a pair of Marshall Headphones? You may have if you tagged your Instagram with #BVMarshall (you may also see one of those Instagrams featured in this post).
All the music we played between bands can be found on our Nokia MixRadio SXSW playlist. Nokia MixRadio were the ones in the pink tent outside all three days.
Indiegogo was there too, though due to the rain, like Marshall, they moved inside on Saturday.
Special thanks to all of our bands and partners and sponsors for making this party possible.
Pictures from Thursday HERE. Pictures from Friday HERE.
More info and pictures from Saturday by Tim Griffin HERE.
BrooklynVegan SXSW show photos:
SATURDAY 1 -- SATURDAY 2 -- FRIDAY 1 -- FRIDAY 2 -- THURSDAY 1 -- THURSDAY 2 -- WEDNESDAY -- FLATSTOCK STAGE -- INIVISBLE ORANGES