BrooklynVegan Friday party photos : Off!, Together PANGEA, Gruff Rhys, Classixx, Parquet Courts, Upset, Viet Cong, more)
Timothy S. Griffin
photos by @griffinshot - Tim Griffin
OFF! / Upset @ Red 7 - 3/14/2014 SXSW

"Now that we've taken a day to absorb a week of music at SXSW 2014, the Reverb staff has put together its picks of best shows. A clear stand-out is St. Vincent's set at Stubb's on March 12. With a full visual experience, dynamic guitar work and her usual vocal strength, Vincent set a high bar to beat throughout the rest of SXSW 2014. Other highlights included a refreshing and intelligent performance from Hospitality on March 13 along with Parquet Courts' buisness-like and blistering show at Red 7 on March 14." [Hey Reverb]
A full set of photos with review from BrooklynVegan's Friday day party at Red 7 is HERE (Parquet Courts included). Thursday is HERE and HERE. More photos from Friday below...

--
The Entrance Band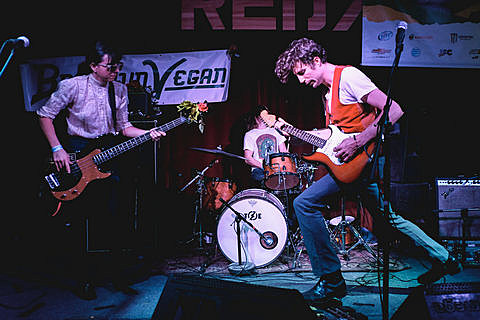 The Blind Shake
together PANGEA
Mutual Benefit
Upset
Off!
Classixx
Gruff Rhys
Viet Cong
Jessy Lanza
Parquet Courts
Special thanks to all of our bands and partners and sponsors for making this party possible.
Shiner beer was on special and we gave away free Jameson, not to mention all the Veri organic soda that was on hand to keep you hydrated. We also let in 20 people each day who were taking advantage of Esurance's SXSW-wide #EsuranceAccess program.
Did you win a pair of Marshall Headphones? You may have if you tagged your Instagram with #BVMarshall (like that pink ball head thing did).
All the music we played between bands can be found on our Nokia MixRadio SXSW playlist. Nokia MixRadio were the ones in the pink tent outside all three days.
Indiegogo was there too. Maybe they fed you a free piece of pizza?
More photos HERE.
BrooklynVegan SXSW show photos:
SATURDAY 1 -- SATURDAY 2 -- FRIDAY 1 -- FRIDAY 2 -- THURSDAY 1 -- THURSDAY 2 -- WEDNESDAY -- FLATSTOCK STAGE -- INIVISBLE ORANGES