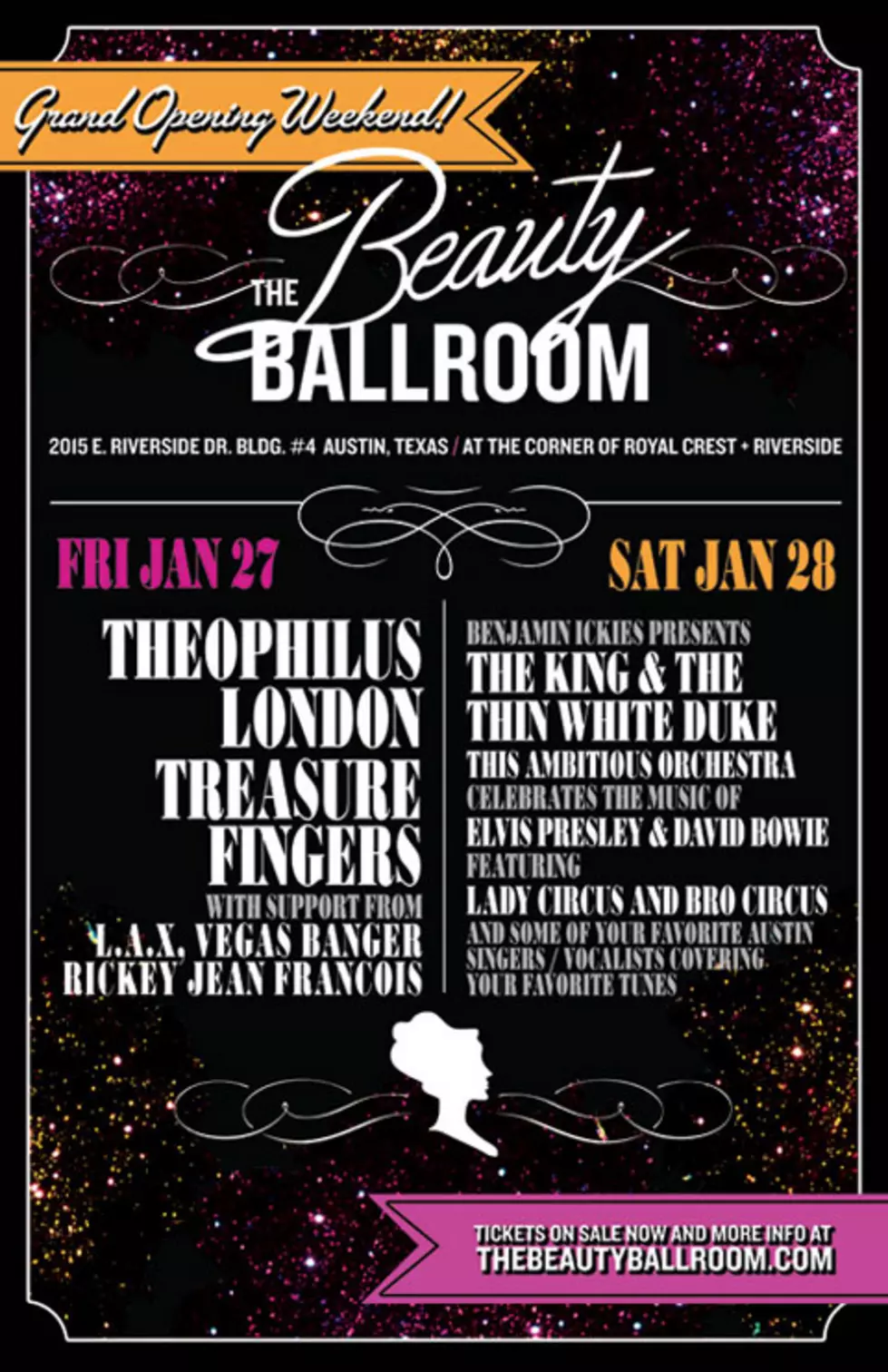 Beauty Ballroom grand opening weekend expands to include Daniel Johnston, Alex Maas & other fun stuff
Though Beauty Ballroom actually opens on Friday with a show by rapper Kendrick Lamar, the "grand opening" is next weekend, and now that grand opening is even more grand. This sums it up:

GRAND OPENING WEEKEND
The Beauty Bar brand expands eastward to Riverside with a 700 capacity venue, The Beauty Ballroom. January 27 & 28 marks the Grand Opening weekend for the new east-side venue, with performances by Theophilus London, Treasure Fingers, L.A.X & a very special performance by This Ambitious Orchestra, covering the hits of David Bowie & Elvis.
The Beauty Ballroom features a 500-cap dance floor and 200-cap balcony with VIP seating options, table service & two karaoke rooms. The Ballroom boasts two full bars (one upstairs and one down), as well as a full production light and sound.
The new location promises to to be one of Austin's premier live music clubs focusing on a national range of talent, while still offering the eclectic lounge feel of the The Beauty Bar brand.
The Grand Opening weekend kicks off 1/27 with a classic Beauty Bar dance party, featuring Theophilus London & Treasure Fingers w/ local dance band L.A.X, Vegas Banger & Rickey Jean Francois. Tickets are $16 and can be purchased HERE.
Saturday, January 28 continues with a spectacle not to be missed. This Ambitious Orchestra presents The King & The Thin White Duke. The orchestra teams up with Lady Circus & Bro Circus to cover timeless songs from Elvis & Bowie, featuring a parade of Austin Singers including Daniel Johnston, Mike Weibe (The Riverboat Gamblers), Alex Maas (The Black Angels), Christina Marrs (Asylum Street Spankers), John Wesley Coleman, Jonathan Terrell (Not In The Face), & more. Tickets are $7 and can be purchased HERE.
Stay tuned for some more big Daniel Johnston news soon too.
Speaking of the Black Angels, they also just announced (and are playing) Psych Fest 2012 which is also taking place at Beauty Ballroom (and Emo's East).