2015 SXSW metal roundup: KEN mode, Power Trip, Coliseum, Full of Hell, Mantar, Royal Thunder, Weedeater & more
photo: KEN mode at IO Northside 2013 (more by Caroline Harrison)

As you probably know, there's thousands of artists to see at SXSW across several genres. For those seeking out the metal at SXSW 2015, here's a roundup of highlights:
We've got some heavy bands playing the three FREE BrooklynVegan day parties at Red 7, which happen on the 6th & Red River venue's two stages on Thursday, Friday and Saturday. Our Friday show, co-presented by Invisible Oranges, has Power Trip, United Nations, KEN mode and the legendary Walter Schreifels' new-ish band Vanishing Life. There's also stuff on the punk/hardcore side (Single Mothers, Pianos Become the Teeth), a couple indie rock veterans (Swervedriver, Superchunk's Mac McCaughan) and more. Check out the full lineup at BV and RSVP here.
Our Thursday party has metal representation from Canadian riffers Cancer Bats. And not metal per se, but METZ, who, to quote ex-Invisible Oranges Michael Nelson, "are heavier than a lot of metal bands," hit the stage just an hour and a half after Cancer Bats. RSVP here.
---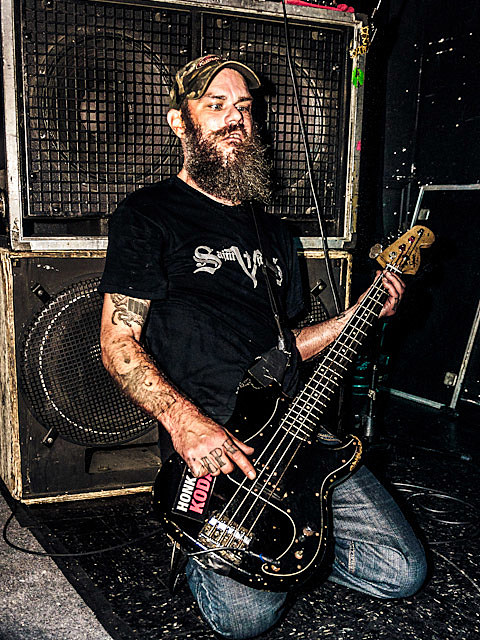 photo: Weedeater at NYC's Saint Vitus in 2012 (more by Samantha Marble)
Now on to non-BV shows: There's a metal showcase Tuesday night (3/17) at Dirty Dog Bar with stoner rockers Royal Thunder, as well the teenaged Unlocking the Truth, Betrayal, Dead Earth Politics, Venomous Maximus and Excessum.
During the day on Wednesday (3/18) there's the Heavy Metal Pool Party at Club Metropolis with promising German band Mantar, along with Victim Mentality, Ruby the Hatchet, Speedozer, Thelma and the Sleaze, So Unloved and one more TBA.
Another chance to see KEN mode, Cancer Bats and Mantar is the Metal Injection showcase at Dirty Dog on Thursday (3/19) night. Also on that bill is Full of Hell, Felix Martin, Moon Tooth and Veil of Maya.
Weedeater headline the Tone Deaf Touring showcase at Dirty Dog on Friday (3/20) night with King Parrot, FOH NOISE, Lazer/Wulf, The Skull and Stinking Lizaveta.
The Black Smoke Conjuring showcase provides a night of heavy rock at The North Door on Friday night with Kadavar, The Shrine, Elder, Heat (the Berlin band, not the Montreal band), Castle (the San Francisco band), and Ruby the Hatchet.
The New England Metal & Hardcore Festival throws a free unofficial showcase on Friday night at the Des Moines Embassy with Code Orange, Harm's Way and many more.
The final day of Converse Thrasher Death Match at Gypsy Lounge, Saturday (3/21), has a ton of heavy bands from noon to midnight including The Dillinger Escape Plan, Sick of It All, Ceremony, Power Trip, Code Orange, Om, Goatsnake, The Skull, The Shrine, Arctic, American Sharks and Blasting Concept. That one's free.
Both Power Trip and Code Orange also play in the indoor stage of Fun Fun Fun Fest's party at House of Vans at Mohawk on Saturday with Lust for Youth and other non-metal bands.
Another all-day show on Saturday is the Rock of Ages show at the Yellow Jacket Social Club with Goatsnake, Eagle Twin, The Roller, Coliseum, Pinkish Black, Publicist UK, Mantar, Bellringer, Mutilation Rites, Sores and Blasting Concept.
And a ton of bands play the returning Heavy Metal Parking Lot on Saturday including Weedeater, Full of Hell, The Skull, The Shrine, King Parrot and many more. That show's unofficial and tickets are on sale.
Full of Hell also appear at an all-day show at Sweetwater on Friday at 6 PM with Mutilation Rites and others, and they play a noise set at the Sux by Suxwest pre-party at 5715 Cherry Park on Saturday.
Coliseum also play the Metal BBQ at La Barbeque on Friday at 8 PM, and The Highball at The Alamo Drafthouse on Saturday at 2 PM.
There's also two SXSW shows for Norwegian blackened punks Haust who IO just completed a 2-part interview with.
Of course those are just a few highlights. What else?
--
UPDATE: Kadavar are no longer coming to SXSW. They write:

We're very sad to announce this, but we had to cancel all of our SXSW appearances. due to sickness and other unforseen circumstances, we are behind the schedule preparing for our next record and hence can't leave berlin right now. we are sorry and hope for your understanding - see you very soon!
--